Venues
Brandon, Manitoba has numerous conference and meeting venues that adapt easily to any number of unique requirements. From intimate meetings to event seating for up to 5,000, Brandon has the facilities to accommodate your event. Among our many other gathering spaces, Brandon is home to the following mid-to-large events centres:
One of the largest consolidated convention, entertainment, agricultural and recreation complexes of its kind in North America, the Keystone Centre features 540,000 square feet of space under one roof. It is also conveniently attached to the 159-room CanadInns Destination Centre Brandon to easily accommodate your event's attendees. Featuring Westoba Place as its main arena, two additional NHL sized ice surfaces in the Enns Brothers and Flynn twin arenas, the Westoba Credit Union Agricultural Centre of Excellence, Brandon Curling Club and an additional 11 meeting rooms, the Keystone Centre is home to some of Western Canada's largest events.
Home to 156 guest rooms, 11 meeting rooms, large theatre and banquet areas, it also features ECHO Restaurant and Wine Bar, an indoor pool with a waterslide for kids of all ages, hot tub, and an exercise centre. Located a short drive from the Keystone Centre and downtown, the Clarion is a great place to stay while in Brandon, and an ideal location for small to mid sized events, such as meetings, conferences, and weddings.
The Victoria Inn houses 131 guest rooms, 8 meeting rooms, as well as mid to large theatre and banquet areas. With great dining at the 34th Street Bar and Grill, an indoor pool, hot tub and exercise centre, the Victoria Inn is ready to accommodate your event. A short drive or cab ride from the Keystone Centre and downtown, the Victoria Inn is regularly host to small to mid sized events, such as meetings, conferences, and weddings, and is an ideal place to stay while in Brandon, for individual travelers and families alike.
The Westoba Credit Union Agricultural Centre of Excellence, located at the Keystone Centre, is a one-of-a-kind facility. There are approximately six acres of outdoor development including camping, large truck and trailer parking, as well as sand and grass equestrian show rings. The indoor 200′ x 85′ show ring features a clay and sand arena, complete with permanent seating for 700 spectators, judges stand, sound system, washrooms, excellent lighting and easy access. Corridors adjacent to the show ring connect to a 150′ x 65′ practice ring and 3 stabling barns adequate to fit 158 stalls.
The HLC is Brandon's newest state-of-the-art facility housing three full size gymnasiums and is home to the Brandon University Bobcats. The Richardson Gymnasium features seating for 1,000 and an indoor four-lane jogging track. This facility also features a modern weight and fitness centre, meeting and programming space and six change rooms.
The Sportsplex is a versatile facility for sporting events. After hosting the 1997 Canada Games, the Sportsplex has hosted plenty of regional, provincial, and national competitions. With an NHL sized arena, full concession, three racquet ball courts, and a state of the art track that was completely resurfaced in 2017, the Sportsplex is ready to host your next major sporting competition.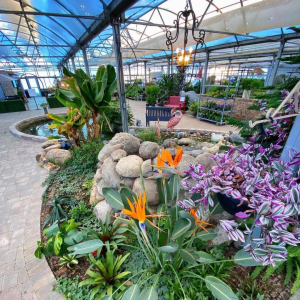 This recently renovated and expanded space provides a unique botanical setting for your meeting, event or social gathering year-round. Host your delegates by the tropical pond or in the nearby greenhouse space and give them an experience they won't get elsewhere in the city. Capable of hosting 100 people, the Green Spot also features the Secret Garden Cafe by Chez Angela – one of Brandon's renowned local bakeries. This beautiful venue is ready to be the stunning backdrop for your next event.
Seldom does a building offer so much in variety and versatility in such beautiful surroundings. The auditorium showcases a variety of cultural activities and is home to ballet, classical concerts, festivals, music recitals, theatrical performances and much more. For a unique setting for your meeting, convention, awards presentations, fashion shows or any other event you might wish to stage in Brandon, consider the Founder's Room for small meetings, the 820 seat theatre, or the Grand Salon capable of accommodating 360 people.
R

oyal Canadian Legion Branch #003
Legion Branches are the cornerstone of communities across Canada, and provide one of the largest volunteer bases in the country. It is no different here in Brandon. The Royal Canadian Legion, Brandon Branch #3 offers a large spacious Banquet Hall with a great casual atmosphere for weddings and special events. The friendly and helpful team is available to help you with planning your event. Don't hesitate to speak to the team today and book your date. The banquet hall offers a large area, atmosphere lighting, and sound system. It is a comfortable room for wedding parties up to 250 guests with plenty of dance floor, or up to 300 for Socials and Conferences.
For additional venues, and more details, please see our


Event Hosting Guide