Welcome to our First ENews Update of 2019!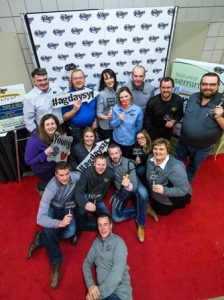 ICYMI: 
Ag Days – What it takes to pull off Canada's Largest Indoor Farm Show
For over forty years Ag Days has been a standing event in Brandon's January calendar. Taking place over three days in the dead of the Manitoba winter, more than 500 large pieces of farm machinery, and more than 800 tradeshow booths put together by more than 535 different Agriculturally focused companies fill the Keystone Centre, and the participants fill all available hospitality corners of our city. This year the event will also feature over 60 speakers from all over the world…… Read more…
SHOWCASE YOUR PHOTOGRAPHY SKILLS!
We want to see YOUR BEST Brandon Event photos! Tag us on your social media or send us your pics directly to socialmedia@brandonfirst.com for your chance to be featured in our publications and on our social media!
55+ Games
Canadian Arabian and Half Arabian Horse Show
Western Canadian Artistic Gymnastics
Royal Canadian Legion National Youth Track and Field
Upcoming Events in February
Westman Multicultural Festival – January 31 – February 2 – City Wide See www.gotothepavillions.com for more details
Dakota Nation Winterfest – January 31 – February 2 – Keystone Centre
For a complete list of events going on in Brandon visit the Brandon Tourism Community Events Calendar
Stakeholder Corner
Invoices were sent out January 1st for 2019 memberships and are due by March 31st.
If you have any questions about your stakeholder package, or the benefits you receive, we are available
Monday – Friday 830-430

Become a Stakeholder
The support of our over fifty local stakeholders helps to solidify Brandon as one of the premier event destinations in Canada and helps to grow our city, economy and infrastructure. This support allows us to continue recruiting the best events for Brandon and Westman.
 Our stakeholders are the first to get their information in front of the decision makers and event organizers we work with.
Add Value to your Bottom Line: Brandon First will always recommend our stakeholders first when organizers are seeking products or services for their event.
Work with Great New Partners: Our stakeholders support and recommend each other and are always looking for new ways to collaborate.
Increase Business Leads and Referrals: Events are constantly looking for services from advertising to decorating to places for their attendees to go outside of the event. As a stakeholder you will be featured in advertising to the events that Brandon First works with.
Display Product and Services to Target Audiences: Brandon First always features the products and services of stakeholders when attending trade shows, meetings or sales calls.
With Annual Price Points from $350 to $5000+  Brandon First's Stakeholder Model is Affordable for All Businesses.
 Annual Stakeholder Investments run from January 1 to December 31 of each year. Applications for investment in Brandon First received part way through the year will be prorated. If you're unsure what level would benefit you best, Brandon First staff would love to meet with you and discuss membership options or answer any questions you may have.
To Join, or  for more information contact us TODAY!