FOR IMMEDIATE RELEASE
June 22, 2023 – Brandon, Manitoba
BRANDON TO HOST 2024 MANITOBA 55+ GAMES
The City of Brandon has been officially named host community for the 2024 Active Aging in Manitoba 55 Plus Games.  The announcement was made yesterday at the 2023 event in Portage la Prairie.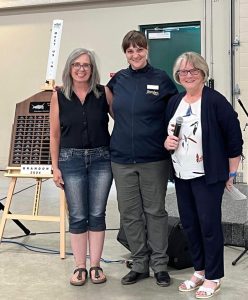 L-R Brandon 55+ Games Committee Co-Chair Karen Kotak, Executive Director of Brandon First Jennifer Watson, and Chair of Active Aging in Manitoba Louise Hutton, seen here after the announcement at Portage la Prairie's Celebration Banquet. 
Scheduled to take place June 18 – 20, 2024, more than a thousand athletes from all across Manitoba will gather in Brandon to participate in the largest multi-sport event in the province.  The annual 55 Plus Games will run for the 41st year offering age-friendly competition in over 25 events ranging from Cribbage and Scrabble to Pickleball and Slo-Pitch.  The games are open to anyone 55 years of age or older and will often see participants who are well into their 90's.
Seniors for Seniors Brandon and Brandon First worked collaboratively on a successful bid for the 2024 Games and will continue to partner with local participants in forming the host committee. "[The] announcement that the 55+ Plus Games will be hosted in Brandon in 2024 is extremely exciting.  This will have such a huge impact in Brandon for our aging population, and we are pleased to be working with the hosting committee to help implement [it]," stated Rob Lavin, Executive Director of Brandon Seniors for Seniors Co-op Inc, "Brandon Seniors for Seniors Co-op Inc. continues to maintain and improve the quality of life for older adults in Brandon by providing opportunities that enable and encourage optimal independent living. We would like to congratulate Brandon First for their dedication in ensuring that the 55+ Games return in 2024."
Active Aging in Manitoba coordinates these games as a celebration of healthy living and proof that Manitobans of all ages can lead active, engaged and healthy lives.  The games emphasize recreational activities combined with social and cultural experiences. "Active Aging in Manitoba is very excited to have the MB 55+ Games returning to Brandon in 2024.  We are very grateful to the Brandon host committee for their commitment and look forward to supporting their efforts to ensure another successful Manitoba 55+ Games!" says Linda Brown, Executive Director for the organization.
Brandon First, the destination marketing organization for Brandon that works to bring event hosting opportunities to the city is proud to provide guidance and support to the local host committee for the 2024 games.  Executive Director, Jennifer Watson says "We are absolutely thrilled to welcome the Manitoba 55+ Games back to Brandon. It was such a great experience in 2016 and this event brings such a wide cross section of competitors to our community so we're very excited to show off our hospitality and hosting abilities to this group once again in 2024."
Active Aging in Manitoba has a comprehensive 55 Plus Games Website that will have further information posted as we move closer to the 2024 event for anyone who interested in being involved. https://activeagingmb.ca/55games/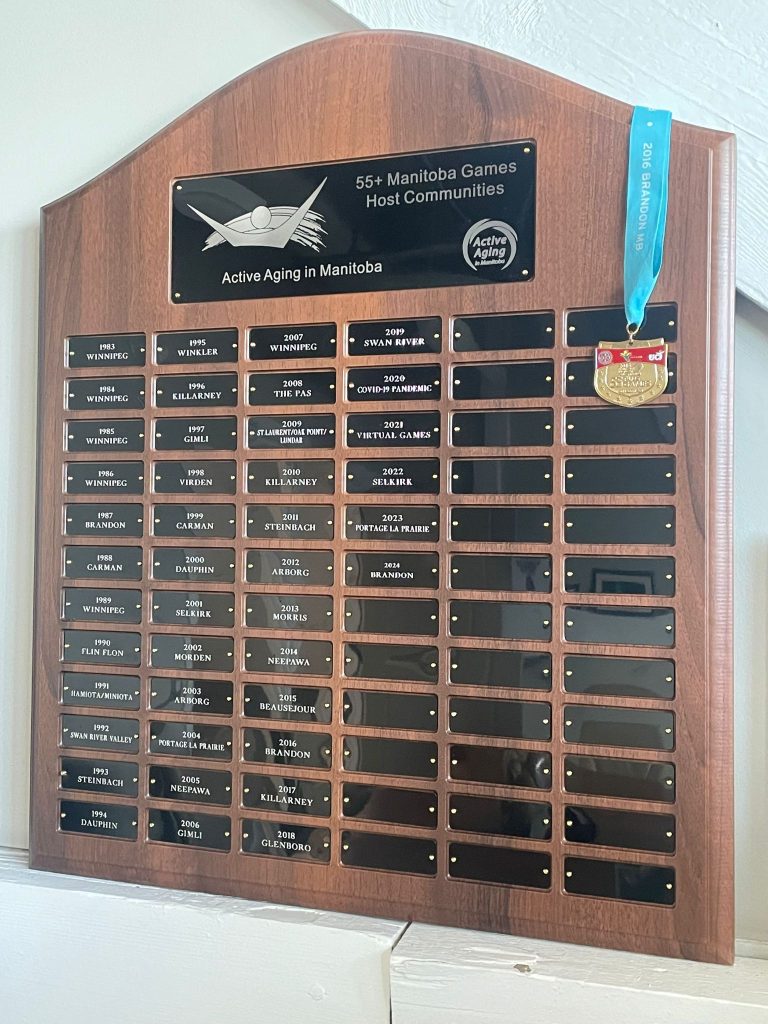 A plaque listing the previous host cities of the Manitoba 55+ Games was presented to the host committee on Wednesday evening, and will be on display at the Brandon First office in the Dome building until next years event when it is passed on to the next host committee. 
-30-
For more information contact:
Brandon First
Jennifer Watson – Executive Director
204-441-5628
or
Active Aging in Manitoba
Linda Brown – Executive Director
204-880-8441