Events News
Brandon to Host Manitoba 55+ Games!
The City of Brandon has been officially named host community for the 2024 Active Aging in Manitoba 55 Plus Games.  The announcement was made June 21st at the 2023 event in Portage la Prairie. Scheduled to take place June 18 – 20, 2024, more than a thousand athletes from all across Manitoba will gather in Brandon to participate in the largest multi-sport event in the province.  The annual 55 Plus Games will run for the 41st year offering age-friendly competition in over 25 events ranging from Cribbage and Scrabble to Pickleball and Slo-Pitch.  The games are open to anyone 55 years of age or older and will often see participants who are well into their 90's. We are absolutely thrilled to welcome the Manitoba 55+ Games back to Brandon. It was such a great experience in 2016 and this event brings such a wide cross section of competitors to our community so we're very excited to show off our hospitality and hosting abilities to this group once again in 2024. 
For our full press release on this announcement please click here
Join our Volunteer Opportunities List
Volunteering at events can be the most rewarding, interesting and fun experience you've ever had. You get a behind-the-scenes view of how events happen, and you get to be a part of something bigger than just yourself. It's a great way to get involved in your community, meet new people and make lifelong friends.
Volunteers truly are the heartbeat of the events industry. Without the dedicated people who volunteer for events, they simply would not be able to happen. From planning committees to on-site event execution, there is a volunteer role for everyone! Sign up today to be notified first when events we are working with have exciting event opportunities for you. You can even specify what types of events you're interested in helping out with! Visit our "Become a Volunteer" page to register! 
Brandon First News
Happy Retirement to Sandy Trudel
In early 2023 Sandy Trudel announced her retirement from Economic Development Brandon, and also from the Board of Directors of Brandon First. Sandy provided consistent support and guidance to our organization for two decades. Her experience will be missed around the board table.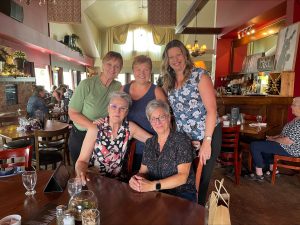 Pictured here (back row centre) with the other original "founding women" of Brandon First, Sandy sat on the Brandon First board right from it's 2003 inception. We wish her all the best in her retirement and thank her sincerely for her many years of dedication to the board.
Brandon First Hosts Annual General Meeting
On June 28, 2023 Brandon First hosted its AGM in the Assembly Hall at the Keystone Centre. Audited financial statements for the year ending December 31, 2022 were presented by Todd Birkhan of BDO, and a year in review presentation was given by Board Chair Chris Heide and Executive Director Jenn Watson. Brandon First saw a return to full working capacity in 2022 and early 2023. Staff attended both CSAE National Conference and Sport Tourism Canada's Sport Event Congress. We provided assistance to more than a dozen Event Hosting Grant Applications and submitted multiple successful bids including the 2024 Active Aging in Manitoba 55+ Games. Other events we provided assistance to include: IRAL Summer Jam Fest, Air Cadets Western Region Summer Gliding Program, World Clydesdale Show, Canadian Trap Shooting Championships, Brandon United FC Soccer ID Camp, Retired Teachers Association MB AGM, Rope & Ride Barrel Racing, Wheat City Throwdown Boxing, Canadian Shorthorn Association AGM, Warhammer 40K Wheat City Open, Canadian Jr. Angus Showdown and many more. Board members confirmed to new two-year terms included Chris Heide, Brad Danielson, Shonah Rathwell, and Carla O'Greysik. Our executive committee was voted upon and will consist of Chris Heide – Board Chair, Grant Hamilton – Vice Chair, Janis Evens – Treasurer and Shonah Rathwell – Secretary. We would like to thank all of our members who were able to be in attendance and look forward to another successful year of event recruitment and hosting!
 Events Pack Big Economic Impact: Help Us Find Out How Much!
The event tourism industry generates millions in economic activity every year, from venues and restaurants, to retail stores and attractions. Brandon First has recently subscribed to a new Economic Impact Calculator through our membership in Destinations International, which was custom populated for our community and our events specifically. With this calculator, and just a few key statistics from your event, we can quickly and effectively generate the estimated economic impact of the meetings, conventions, sports, agriculture and other events happening in our city. This shows, in real-time, the return on investment our city, region and province gets from hosting such events. 
For your free event Economic Impact report, or for more details on the information this calculator can provide, reach out to our Executive Director, Jenn Watson; she'd be happy to help you determine the impact of your event!

Upcoming Events
For a list of upcoming events check our page regularly here.
June 28 – July 2, 2023
Canadian National Trap Shooting | Brandon Gun Club
September 15 – 16, 2023
IRAL Summer Jam Fest | Riverbank Discovery Centre
Note: Please adhere to all public health ordinances and the event's Covid safety guidelines while attending events in Brandon.
Stakeholder Corner
Souris Hotel Celebrates 5th Anniversary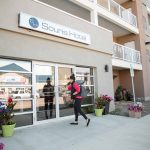 On June 30, 2018 stakeholder member the Souris Hotel first opened its doors and is celebrating it's fifth anniversary. They will be having celebrations and giveaways to commemorate this milestone. If you have a chance to make the trip south, Souris is a short scenic dive away from Brandon. Congratulations on five years of success to Darlene and her team at the Souris Hotel!
If your business is not yet a Brandon First stakeholder and you would like more information you can call our office at 204-729-2156 or click here for details on membership.
Thank you to all of our funders and stakeholders. We could not continue to bring the best events to Brandon in the future if not for the generosity of our events and business community today.
Member invoices were sent out at the beginning of the year and due by March 31st. Reminder notices will be sent to outstanding members in April. If you have any questions about your membership or the benefits you receive, please reach out to Jenn directly at jenn@brandonfirst.com or 204-441-5628
Do you have an event in mind you
would like to see come to
Brandon in 2024 or 2025?

Let us know! info@brandonfirst.com or 204-729-2156
You can also submit an RFP or Event Proposal by clicking here.