Events News
Brandon University wins bid to host Cadets Canada!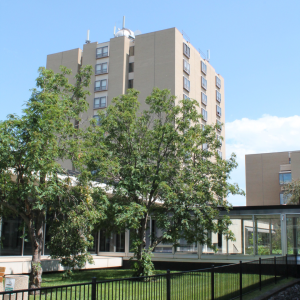 Brandon University (BU) will be the home base for a large group of air cadets as they soar into the city this summer.
Brandon University has been chosen by the Regional Cadet Support Unit (Northwest) to house and feed the cadets during a Cadet Training Centre program that will take place from June 26 to August 20. The agreement will also bring the cadets back to Brandon in 2023, with an option to extend the relationship to be revisited at that time. This year, approximately 80 to 100 people will be staying in Brandon, including cadets and support staff.
The University worked together with the Brandon Flight Centre (BFC) and Brandon First in preparing the bids. The BFC will host the training for the cadets.
"While this may not be typical style of event people are used to seeing us recruit, like a softball tournament or a curling championship, we are no less excited to have worked with BU and BFC to bring this event to Brandon," Brandon First Interim Executive Director Jennifer Watson said.  "We can't wait to welcome Cadets Canada to Brandon, to show them why we are known as a top-notch host city, and why Brandon Brings You Back again and again."
For the full press release click here
Brandon First News
Brandon First hosts AGM
Every June Brandon First hosts its Annual General Meeting. This year, we were grateful to be able to welcome 17 local stakeholders back to an in person meeting at the Keystone Centre's Assembly Hall. Financial statements were presented by our auditors, BDO LLP followed by a Year in Review by our Board Chair Chris Heide and Interim Executive Director Jenn Watson:
Brandon First has had a productive year helping to revitalize the event hosting industry as we come out of the pandemic. We've worked with some excellent committees and event hosts to recruit some events for later this year and into 2023, developed custom databases to better track our efforts, reached more social media viewers than ever and are returning to some more "normal" activities like going to recruitment conferences and events.

As everyone is by now well aware, the last two years disrupted event hosting not just in Brandon but globally. We are now seeing a slow, steady return of Brandon's cornerstone annual events and many events that were postponed are rebooking for 2022 and 2023. Brandon First worked with local groups to write the successful bids for the 2023 Softball Canada U16 Girls National Softball Championships and the 2023 Western Canadian Powerlifting Championships. Jenn and curling cochair Jackie travelled to Saskatoon to meet with Curling Canada at the 2021 Roar of the Rings, and Brandon First together with the three local Curling Co-Chairs from the Brier and the team at the City are moving forward with our multi-event Curling Strategy, with a goal of another major Curling Canada property in 2025.

Having the most up-to-date information on event delegate numbers, room nights generated, event hosting grants and economic impact is vitally important to what we do, and it is going to be especially so post-pandemic. We know that events have changed, and data gathered before Covid may not be as relevant now. So the staff worked together to build a custom database specifically to meet our needs and track that targeted information. The Brandon1st Event Recruitment Tracker, or BERT, allows the team access to recruitment data, past events and updates from other staff in real-time, making us more efficient and our communications amongst the team more reliable and transparent.

This year we also started formally tracking our social media reach. We updated our graphic themes for 2022 and developed and followed a quarterly schedule of #membermonday posts to promote our stakeholders and #throwbackthursday to showcase events Brandon has hosted well in the past. In between we shared one-off posts like attending Superwoman3 and the lights going up at Ashley Neufeld as they happen. This resulted in more than 60,000 views in the first half of the year and increased followers on all of our platforms. Starting this quarter we are also adding #whatsupwednesday that will list upcoming multi-day events in Brandon. We have budgeted and planned for an increased presence of paid boosted posts for the rest of the year that will increase our reach and followers further. We've also started venturing into video with Tik Tok and YouTube, and our mascot bear, Brandy B First is the star of our Tik Tok and has her own Instagram page. So check her out and give her a follow.

Some of our best recruitment comes from going to tradeshows and conferences across the nation and talking directly to events rights holders and major decision makers. Through the pandemic these conferences were attended virtually but let's face it: we don't get the same benefits as being there in person. This fall both the Sport Tourism Canada Sports Event Congress and Canadian Society of Association Executives national conference are going live again, and our staff has registered to attend both. Local recruitment travel has also resumed, with Pam coming out to Brandon several times this year and the team scheduling trips into Winnipeg over this summer to meet with Sport Manitoba, Travel Manitoba and other potential partners and event hosts. Its great to see us be able to return to some "normal" activity after waiting so long.
Several board members were confirmed to new two year terms:
Anna Dumas – Member at Large
Grant Hamilton – Brandon University
Amber Little – Clarion Hotel and Suites Brandon
Chris Heide – CAA Manitoba
Janis Evens – Member at Large
We also confirmed the composition of our Executive Committee for the next year:
Board Chair – Chris Heide
Vice Chair – Anna Dumas
Secretary – Katrina Sigurdson
Treasurer – Grant Hamilton
We would like to thank everyone who was able to attend and look forward to the next year of Bringing Events to Brandon!
Upcoming Events
For a list of upcoming events check our page regularly here.
June 30 – July 2, 2022
Canada Day Baseball Tournament | Simplot Millennium Park
July 15 – 17, 2022
Baseball Manitoba 18U Provincials | Simplot Millennium Park 
July 18 – 23, 2022
World Percheron Congress | Keystone Centre
July 21 – 24, 2022
Softball Manitoba U13 AAA Girls Provincials | Ashley Neufeld Softball Complex
July 22 – 24, 2022 
Brandon Minor Baseball Prospects | Simplot Millennium Park
July 29 – 31, 2022
Super Run 2022 | Grand Valley Park
July 29 – 31, 2022
Manitoba Minor Baseball 15U AAA Tier 1 and Tier 2 Provincials | Simplot Millennium Park
August 14 – 20 , 2022
Canadian National Arabian and Half Arabian Horse Show | Keystone Centre
Note: Please adhere to all public health ordinances and the event's Covid safety guidelines while attending events in Brandon.
Stakeholder Corner
Welcome to our two newest Brandon First Stakeholders, The Bloom Box and CoWorks Inc!

The Bloom Box is your full service flower shop, delivering quality florals, gifts and more! Now located inside the Greenspot, this long running floral studio has been serving Brandon and the surrounding area as a florist for over 30 years and boasts Western Manitoba's only AIFD certified florist. For the best flowers for your next event you're going to want to reach out to the folks at the Bloom Box!
Co-Works Inc is here for your office needs! Offering affordable coworking spaces and private offices in Brandon, Manitoba, their mission is to bring small businesses, start-up teams, entrepreneurs and professionals of all kinds together to conduct their businesses under one roof. The goal is to provide a flexible AND affordable workspace. Whether it is at a hot desk in their lounge or a private office, members are able to enjoy access to all the amenities of a big office without the cost of one!
From the Board and Staff of Brandon First we would like to sincerely thank each and every one of our valued Stakeholder Member Businesses for another year of support.
We could not continue to bring the best events to Brandon in the future if not for the generosity of our events community.
If your business is not yet a Brandon First stakeholder and you would like more information you can call our office at 204-729-2156 or click here for details on membership.
Do you have an event in mind you'd like to see come to Brandon
in 2023, 2024 or 2025?
Let us know! info@brandonfirst.com or 204-729-2156
You can also submit an RFP or Event Proposal by clicking here.