Brandon First News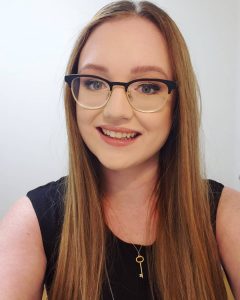 Brandon First Welcomes Back Sara Girard!
We are pleased to announce that our Regional Sales Coordinator for Westman has returned from her maternity leave! Sara is excited to be back and is already busy scheduling meetings with clients, going out into the community to talk events, planning to attend the Sport Tourism Canada Sports Event Congress with Pam in November, and is ready to meet with you to discuss your next multi-day event in Brandon! Sara works on all sorts of projects to recruit events for Brandon and help individuals or groups interested in hosting here. Reach out to her today to discuss new event hosting, funding options, receive assistance with hosting challenges or to discuss opportunities to promote your business to the event market!
Brandon First Hosts First Night of Delight since 2019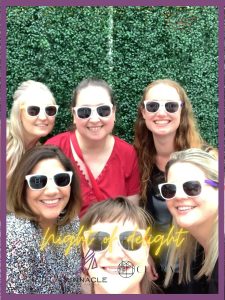 One of our favorite events to be a part of is our annual stakeholder appreciation evening.  In recent years this has taken the form of the Night of Delight, an annual event Brandon First puts on to say THANK YOU to all of you for being members! We usually start out with some entertainment at the Dome Building, where the Brandon First office is, and then have taken a Brandon Bus Lines coach around to various different stakeholder locations for an evening of food and fun. We have been axe throwing, to the arcade, for appetizers at different restaurants, for tours and cocktails at the Green Spot, Bobcat exhibition volleyball and all sorts of other fun activities.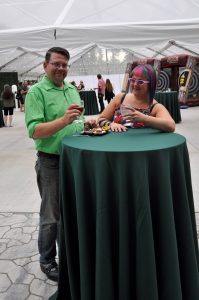 This year we started out front of the historic Dome Building and then walked over to Clara, Brandon's first semi-permanent outdoor tent venue in the Patmore Forest on the Keystone grounds, owned and operated by Pinnacle Event Rentals. They had inflatable axe throwing, a booth by Stay Weird Studios and they partnered with the Keystone Centre to provide drinks and appetizers. Next we hopped on a donated coach from Brandon Bus Lines and went to CoWorks, one of our newest members, for a tour and networking. After that we headed out to the newly renovated Green Spot and Bloom Box for dueling drink stations and cheesecake from the one and only Chez Angela. Then we were back on the bus for a trip over to T-Birds where we bowled and stuffed ourselves with nachos! We ended the evening at The Backyard on Aberdeen where Aida treated us to a perogy bar and Trivia with Kate and Aaron, followed by a beautiful bonfire in the yard to cap off the night.
We hope our members had as much fun as we did and are so excited to see what happens at Night of Delight '23! Take a look at our photos page to see all the fun we had!
Brandon First Team Attends Travel Manitoba Tourism Conference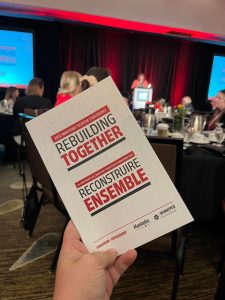 In early September, Jenn and Pam attended the two-day Manitoba Tourism Conference at the Delta in Winnipeg. There were excellent networking opportunities, break out sessions, key note speakers and presentations on the tourism industry in a post-pandemic climate. It was a great chance to meet with some of our colleagues and counterparts and bring home some best practices for our future event recruitment endeavors.
Upcoming Events
For a list of upcoming events check our page regularly here.
October 26 – 29, 2022
Manitoba Ag Ex | Keystone Centre
November 14 – 16, 2022
MFGA Regenerative Ag Conference | Victoria Inn Hotel and Conference Centre
January 16 – 19, 2023
Manitoba Ag Days | Keystone Centre
To add your event to our calendar email us at info@brandonfirst.com
Note: Please adhere to all public health ordinances and the event's Covid safety guidelines while attending events in Brandon.
Stakeholder Corner
Welcome to our newest Brandon First Stakeholder, Trident Films, Music, Studios!

Please join us in welcoming the newest member of the Brandon First Stakeholder Membership: Trident is your premier choice for event entertinament, DJs and Emcees, videography and more. Visit www.tridentfilms.ca or www.tridentmusic.ca to learn more!
From the Board and Staff of Brandon First we would like to sincerely thank each and every one of our valued Stakeholder Member Businesses for another year of support.
We could not continue to bring the best events to Brandon in the future if not for the generosity of our events community.
If your business is not yet a Brandon First stakeholder and you would like more information you can call our office at 204-729-2156 or click here for details on membership.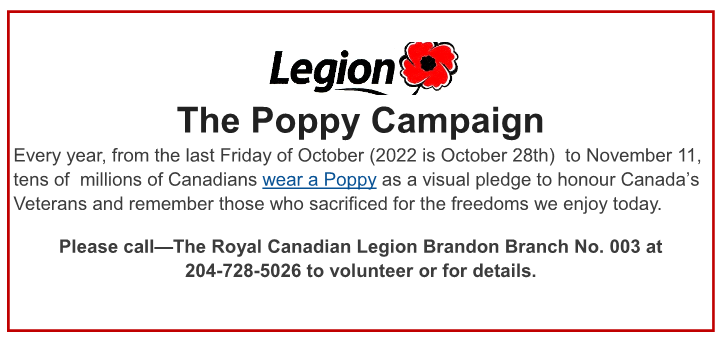 Do you have an event in mind you'd like to see come to Brandon
in 2023, 2024 or 2025?
Let us know! info@brandonfirst.com or 204-729-2156
You can also submit an RFP or Event Proposal by clicking here.